June 29, 2017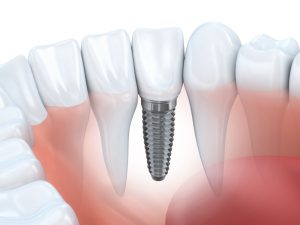 Much like a jigsaw puzzle needs all its pieces to really work, your smile just isn't able to function without each and every one of its teeth. Gaps in the smile always need to be filled, and for eligible candidates, dental implants in Kernersville provide the very best solution. It is a comprehensive replacement that gives you back the supportive root as well as the tooth's crown — and we've got the details on why you should consider dental implants in this week's blog post.
Tooth Loss Takes a Significant Toll
Too often, people think one or two missing teeth aren't that big of an issue, especially if they are located in the back of the mouth. But there's no way around the fact that missing teeth must be replaced. Aside from potentially affecting everything from your nutritious diet to the way you speak, tooth loss can lead to even more missing teeth later on. Our bones need stimulation to stay healthy, and the teeth's roots provide this support for the jawbone. Without them, bone in this area will gradually be lost, which means the surrounding natural teeth eventually fall out once they lose their solid foundation. By replacing your tooth's root, dental implants support the jawbone to help you retain your youthful facial volume and to also prevent additional tooth loss in the years to come.
Multiple Benefits of Dental Implants
As a comprehensive tooth replacement, dental implants provide a wonderful solution for people who have suffered any amount of tooth loss. The benefits are significant, and include…
Promote better oral health by stabilizing the jawbone

Mimic the natural tooth structure

Easy to brush, floss, and maintain

Eliminate denture slippage or discomfort

Improve diet by allowing you to eat all your favorite nutritious foods

May improve alignment of the teeth

Can be expected to last a lifetime

The best financial investment
Process for Dental Implants
The procedure for dental implants takes many months and is completed in two main phases: implantation and restoration.
During the implantation portion of your dental implant procedure, Dr. Walker will partner with a trusted local oral surgeon to put together an effective treatment plan. Each dental implant is surgically placed beneath the gum line, where they heal together with the jawbone over a period of four to six months. This process, known as osseointegration, is what makes dental implants the premiere tooth replacement currently available.
Once enough bone has covered the dental implants, you return to Dr. Walker's office to begin the restoration phase. A single tooth implant can be restored with a dental crown, while multiple missing teeth may require a bridge. For a full row of lost teeth, a complete, implant-retained denture provides the maximum stability for your smile.
Let's Discuss Implant Dentistry Today!
It doesn't matter how many teeth you are missing — they must be replaced ASAP! Find out if you are eligible for dental implants by getting in touch with your dentist in Kernersville. Request an appointment with Dr. Walker today!
No Comments »
No comments yet.
RSS feed for comments on this post.
Leave a comment