Porcelain Veneers – Kernersville, NC
Imperfect Teeth? We Can Correct Your Smile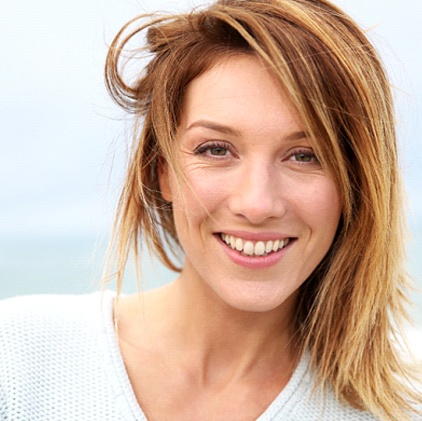 You don't have to live with teeth that have stains, gaps, chips or fractures. And even if you have broken, crooked or misshapen teeth, there's one treatment that can address all these flaws. Dr. Zack Walker can enhance your smile with porcelain veneers in our Kernersville, NC dental office! Porcelain veneers are thin laminate shells bonded to the front of your teeth. Are you interested in learning more? Read the information below, and then schedule a consultation with Dr. Walker to achieve your best smile.
Benefits of Porcelain Veneers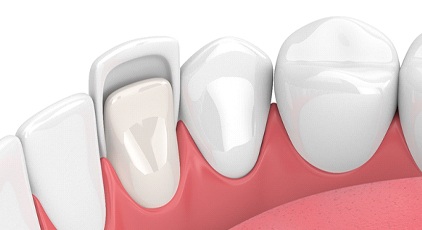 Since porcelain is a biocompatible material, it won't irritate your gums. Porcelain also reflects the light the same way as real enamel, so your smile has a natural, healthy look. In addition, porcelain veneers are durable and long-lasting, and they will function as well as your natural teeth. For patients seeking to improve their smiles, porcelain veneers can give you the smile of your dreams.
At our cosmetic dental office, we can provide minor tweaks or complete smile makeovers with porcelain veneers. Damaged, stained, crooked, and irregularly shaped teeth can be replaced with better, straighter, and whiter teeth. During your visit, Dr. Walker will talk to you about your ideal smile and make a personalized treatment plan for your customized porcelain veneers.
The Porcelain Veneer Process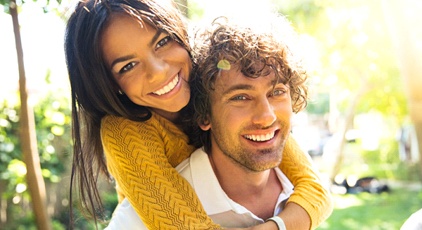 To ensure an excellent fit, Dr. Walker will buff a small amount of enamel. Once your teeth are fully prepared, you'll receive temporary veneers to wear while molds are sent to our trusted dental lab partner. At your next appointment, Dr. Walker will place and bond your custom-made porcelain veneers. Dr. Walker's craftsmanship will ensure your teeth look beautiful and work well with new porcelain veneers. When you leave our Kernersville dental office, you'll be able to show off your brand-new smile!
Maintaining Your Porcelain Veneers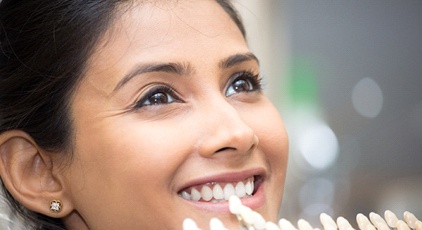 With the proper care, porcelain veneers can last for 20 years or even longer! Luckily, taking care of porcelain veneers is simple. Every day, you need to brush and floss your teeth, and every six months, you need to our Kernersville dental office come in for a checkup and cleaning. So, basically you need to treat your veneers just like you would your natural teeth, and you'll be able to enjoy a confident smile for years to come.
Veneer FAQs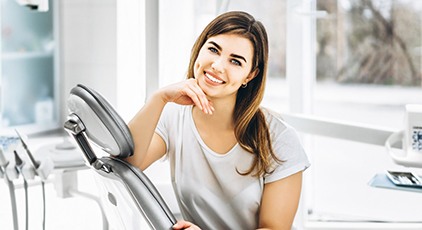 Want to learn more about veneers in Kernersville? Our team is here to help! We'd be more than happy to answer your questions during your initial consultation; however, we know that many patients feel more comfortable doing their research online. For this reason, we've taken the time to respond to some of the most frequently asked questions right here.
What Happens to the Teeth Under Veneers?
Prepping your teeth for veneers is an essential part of the process. Otherwise, the end result wouldn't look seamless and natural. That's why our Kernersville cosmetic dentist will skillfully and meticulously remove a sliver of your enamel beforehand. Since the tooth will be protected by the veneer, you won't be at a higher risk of experiencing tooth decay. However, it is still incredibly important that you continue to practice good oral hygiene habits, like brushing twice a day, flossing daily, and visiting your dentist every six months for a cleaning.
Will I Still Be Able to Drink Coffee with Veneers?
Yes! Unlike your natural teeth, veneers are stain-resistant. As a result, consuming coffee and other dark-colored beverages won't cause pigmented discoloration overnight. Of course, it's still ideal to drink coffee with a straw. This will keep your veneers looking bright and beautiful for as long as possible.
How Long Do Veneers Last?
Veneers can last for well over a decade with proper care. In fact, one study found that 94% lasted for 10 years and 83% lasted for 20! Naturally, the lifespan of yours will depend largely on how well you care for them. Brushing twice a day, flossing daily, and rinsing with mouthwash regularly are great places to start. You should also visit your dentist every six months, limit your consumption of sugary foods and beverages, and avoid unhealthy dental habits, like smoking.
How Many Veneers Will I Need?
The answer will depend entirely on your dental needs and the results you're hoping to achieve! If you have one worn-down or chipped tooth, then you may only need one. If you want to address permanent discoloration, minor misalignment, or another more prominent dental flaw, then you may need 10 or 12. Ultimately, the exact number will be decided by you and your cosmetic dentist.
Can You Whiten Veneers?
In short, the answer is "no." Whitening procedures do not have any effect on veneers. If you are unhappy with the shade of yours because of discoloration, then it's important to talk to your cosmetic dentist about your treatment options. The best way to keep your veneers bright and beautiful is by taking really good care of them.