Enhancing Kernersville Smiles with Porcelain Veneers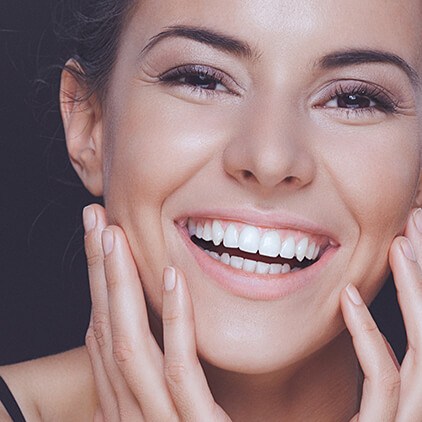 At the Kernersville office of Dr. Veronica Walker, we can enhance your smile with porcelain veneers! You don't have to live with teeth that have stains, gaps, chips or fractures. And even if you have broken, crooked or misshapen teeth, you can benefit from porcelain veneers!
Porcelain veneers are thin laminate shells bonded to the front of your teeth. Since porcelain is a biocompatible material, it won't irritate your gums. Porcelain also reflects the light the same way as real enamel, so your smile has a natural, healthy look. In addition, porcelain veneers are durable and long-lasting, and they will function as well as your natural teeth. For patients seeking to improve their smiles, porcelain veneers can give you the smile of your dreams.
At the cosmetic dentistry practice of Dr. Veronica Walker, we provide complete smile makeovers with porcelain veneers. Damaged, stained, crooked and irregularly shaped teeth can be replaced with better, straighter and whiter teeth. Dr. Walker is well-versed in the procedure of porcelain veneers. During your visit, Dr. Walker will talk to you about your ideal smile and make a personalized treatment plan for your customized porcelain veneers.
To ensure an excellent fit, Dr. Walker will buff a small amount of enamel. Once your teeth are fully prepared, you'll receive temporary veneers to wear while molds are sent to our trusted dental lab partner. At your next appointment, Dr. Walker will place and bond your custom-made porcelain veneers. Dr. Walker's dental craftsmanship will ensure your teeth look beautiful and work well with new porcelain veneers. When you leave our Kernersville office, you'll be able to show off your brand new smile!
At the office of Dr. Veronica Walker you can get a whole new smile with porcelain veneers. We serve the communities of Kernersville, Winston-Salem, Greensboro, High Point and beyond. Contact us today for your appointment.