Dental Implants – Kernersville, NC
Regain a Confident, Healthy Smile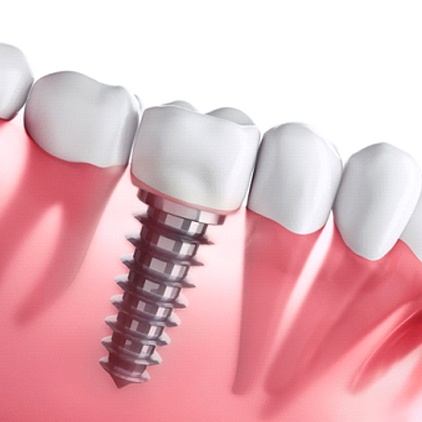 In the past, the only way to replace a missing tooth or missing teeth was with solutions like a dental bridge or denture. While these options effectively restore the appearance of your smile and some biting power, they only replace the visible portion of a missing tooth and don't account for the underlying supportive structures of the teeth. Thankfully, we can help you regain a confident, healthy smile with dental implants instead! Dental implants replace missing teeth above and below the gumline for a comprehensive tooth loss solution with unmatched comfort and function. To find out if you're a good candidate for dental implants in Kernersville, NC, give us a call today and schedule your consultation with Dr. Zach Walker.
Why Choose Dr. Zach Walker, DDS For Dental Implants?
Partnered with Local Specialists for Implant Surgery
Ability to Replace Any Number of Missing Teeth
Fair Prices & Flexible Payment Options
What Are Dental Implants?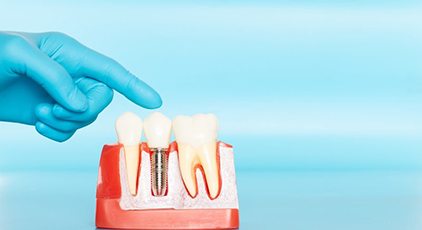 There are three parts to a dental implant: the implant post, the abutment, and the final restoration. The implant post is inserted directly into the jawbone, mimicking the roots of your missing tooth. Once there, it binds to the surrounding bone tissue to form a strong, reliable foundation. On top of the post is a small connector piece called an abutment, which secures your final restoration in place. This can be a custom-made crown, bridge, or denture depending on how many teeth you're missing. Rebuilding your missing teeth from the roots up like this gives you a smile that looks, feels, and acts just like natural. That's why dentists and patients alike consider dental implants to be the gold standard of tooth replacement.
The 4 Step Dental Implant Process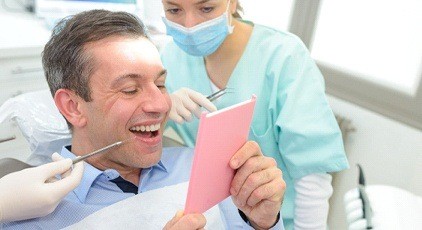 Once you've decided to move forward with dental implants, it's important that you understand the process that will take place. Yes, it does require having much patience, as it can often take several months or even a year before you're able to see a new and improved look. However, the investment you're making in time and money will certainly be well worth the wait once you see and experience your dental implants. With more than 3 million people who can attest to their benefits and worthwhile investment, you'll be pleased with your decision to choose this type of tooth replacement.
But before you try to rush the process, which is certainly not advisable, learn a bit more about how dental implants work in Kernersville.
Initial Dental Implant Consultation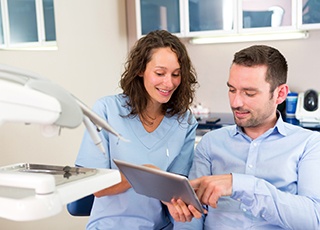 Scheduling a consultation with Dr. Walker is the first step you'll need to take when preparing for dental implants. It is during this visit that he will examine your smile and determine if you are eligible for treatment. Should your jawbone appear weak, a tooth needs to be removed, or gum disease is evident, he will likely recommend preliminary treatments to address these problems first.
The timeline for treatment with implants varies case by case and depends on many factors. A patient who is getting only one implant may only need a few months total, and someone replacing all their teeth may require up to a year to complete treatment. If you currently have gum disease or require other procedures before starting implant treatment, taking care of these first can add to the total time. During your consultation, we can formulate a treatment plan and give you a realistic timeframe for your treatment.
Dental Implant Surgery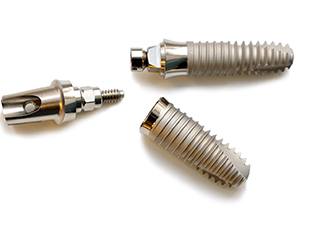 Placing dental implants requires minor surgery. Dr. Walker is partnered with some of the best local surgeons to ensure this part of your dental implant treatment goes as smoothly as possible. You will first receive local anesthesia to numb the area around the vacated sockets. Then, one or more implant posts will be inserted into your jawbone, where they will stimulate new bone growth around it. Your implant dentist in Kernersville will make sure to angle each implant to ensure maximum support.
Once all your implants are successfully in place, they will close the gum tissue before sending you home.
Dental Implant Osseointegration/Abutment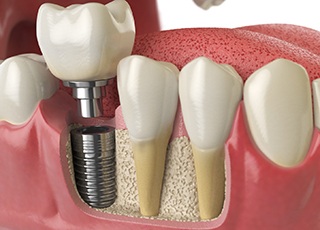 Depending on the number of implants you need to have placed, your recovery can take anywhere from 3-6 months. The reason for this length of time is because osseointegration must occur. This is the process of the implants fusing with the bone and surrounding tissues. If this is unsuccessful, your implants will remain loose and eventually fail. To keep this from happening, you'll need to make some serious changes to your lifestyle, especially if you smoke. Anything that can weaken your immune system and make it harder for you to heal will need to be addressed before receiving dental implants.
Once your mouth is fully healed, you'll return to see Dr. Walker for placement of your metal abutments. These are small metal appliances that serve as connector pieces and attach the customized restoration to your dental implants in Kernersville.
Delivery of Dental Implant Restorations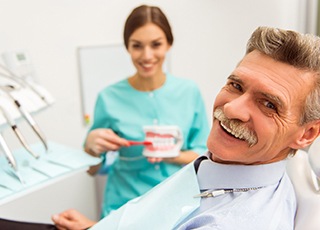 As you near the end of your treatment, the last step in the process is receiving your custom-made restoration. Based on the number of teeth that need to be replaced, you will receive either an implant dental crown, implant bridge, or implant denture. Made from high-quality materials, you can count on your new teeth to mimic the color, shape, and size of your regular teeth, giving you a natural appearance that looks and feels better than ever.
Benefits of Dental Implants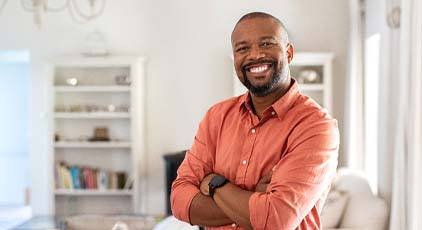 Because dental implants replace the tooth's root as well as the crown, they can improve your life in ways that other tooth replacement options simply can't. The biocompatible properties of the implant posts essentially trick your body into believing that your natural teeth were never lost in the first place. In short, it's the next best thing to having your real teeth back! Here are just a few of the life-changing benefits of dental implants in Kernersville.
Day-to-Day Benefits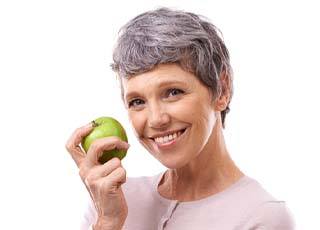 Dental implant posts are firmly embedded in your jawbone, and they're topped with crowns, bridges, or dentures that have been fully personalized to look natural. You'll be able to smile confidently knowing that your teeth won't slide around, fall out, or appear artificial.
People who wear traditional dentures often feel restricted in terms of the foods they can eat. In contrast, dental implants in Kernersville won't limit your diet. By replacing the missing tooth's root structure, your implant will have the same chewing power as your original tooth. You should be able to enjoy everything on your plate!
Instead of spending time taking your dentures out to clean and soak them, you can care for dental implants with ordinary brushing and flossing. This makes your daily oral care routine much faster and easier to maintain.
Health Benefits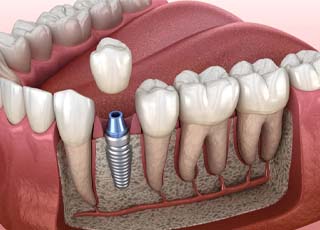 With dental implants, there are fewer places for bacteria and plaque to accumulate as there are with traditional dental bridges and dentures. As a result, implants lower your risk of gum disease.
To hold a dental bridge in place, some enamel must be removed from two of your existing teeth. Dental implants, on the other hand, are completely independent, so none of your healthy tooth structure needs to be modified.
By stimulating the jawbone like natural tooth roots do, dental implants prevent the bone loss that gradually occurs after teeth are removed. Since a weakened jawbone has difficulty supporting your remaining teeth, dental implants reduce your risk of further tooth loss. As an added bonus, they help you enjoy a more youthful appearance by preventing the facial collapse caused by jawbone loss.
Long-Term Benefits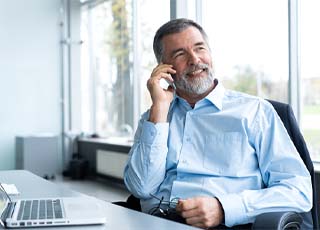 With proper maintenance, dental implants can last for over 30 years – maybe even the rest of a patient's life! All you have to do is keep up with your oral hygiene and regular checkups with an implant dentist in Kernersville.
Even after more than a decade since placement, dental implants are successful in over 95% of cases.
Dental implants are actually the most cost-effective way to replace missing teeth. While they cost more than dentures and bridges at first, these traditional prosthetics will need to be replaced every five to ten years. Plus, they require special cleaning products and adhesives. Over time, you'd end up spending more than you would have by getting dental implants from the start.
Who Dental Implants Can Help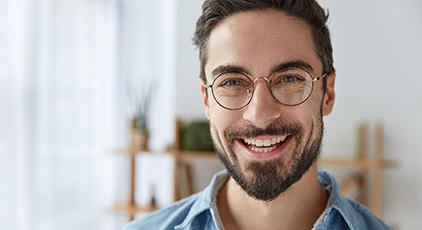 No matter how many teeth you've lost, there is a dental implant solution that can help you regain your smile and your confidence. During your initial consultation, we'll make sure you're a good candidate and then create a custom treatment plan depending on how many teeth you're missing.
Who Is a Good Candidate for Dental Implants?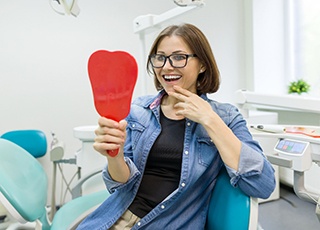 In order to qualify for dental implants, you need to be in good oral health, and your jawbone needs to be sufficiently strong to support the implants. However, even If you have gum disease or a weak jawbone currently, we can easily fix these problems with periodontal therapy, bone graft, or other preparatory procedures, enabling you to get dental implants once you've healed. Then, we can determine how many implants you need and what type of restoration is right for you depending on the extend of your tooth loss.
Missing 1 Tooth
Dental implants for single missing teeth are placed in the missing tooth's socket inside the gums, stimulating the bone. After the gums and bone envelop the implant, an abutment piece is attached. Finally, a custom, natural-looking dental crown is positioned on top, completing the process and giving you an artificial tooth that functions and appears just like a natural one.
Missing Multiple Teeth
If you have several gaps in your smile, you can take advantage of an implant bridge or an implant partial denture. By anchoring to two dental implants, the bridge can replace three or more consecutive teeth efficiently.
Missing All Teeth
For total tooth loss, implant dentures can restore your complete smile without any of the slipping. With four to six strategically placed posts, you can enjoy the benefits of dental implants and the beauty of dentures.
Understanding the Cost of Dental Implants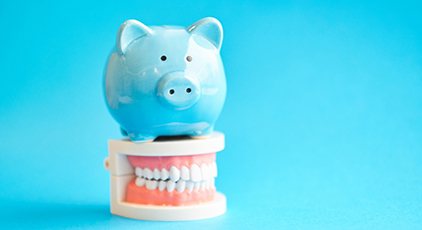 Each of our patients is unique and has specific needs. As a result, it is nearly impossible to provide a general estimate for a treatment that can vary greatly case by case. The specific cost of dental implants in Kernersville depends on the number and location of the implants, whether you need any preliminary work done (e.g., bone graft), and the restoration that will be placed on your implants. To get an accurate idea of treatment costs, contact our Kernersville dental office. Our knowledgeable team can evaluate your case and provide an estimate for the amount you'll be responsible for. If you'd like to break up the cost of treatment into monthly payments, we can help you apply for CareCredit, a financing company that can offer little to no interest.
Preliminary Treatments & Dental Implant Surgery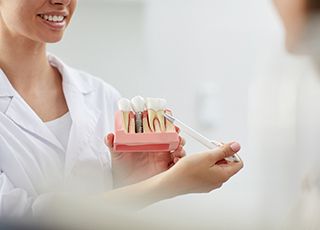 When meeting with Dr. Walker to discuss your dental implant placement, he will perform a thorough examination of your oral cavity to determine if you are an eligible candidate for treatment. Should there be any signs of severe tooth decay, gum disease, or jawbone deterioration, you will likely need to undergo preliminary treatments that include bone grafting, periodontal therapy, or tooth extraction. While these do add to the total cost of your treatment, they are necessary to ensure the success and longevity of your implants.
You will also need to consider your dental implant surgery, as this will be its own cost. Because Dr. Walker partners with the best local oral surgeons in the area, you will be responsible for paying two separate fees: one to your implant dentist in Kernersville who will surgically place your new prosthetics, and another fee for your customized restoration.
The Parts of Your Dental Implant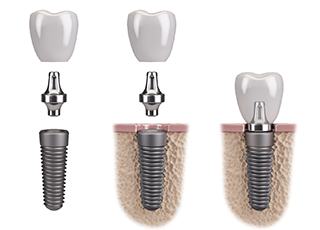 There are various factors that must be considered when determining how much your actual implants will cost, such as:
Number of dental implants: Depending on how many teeth are missing, you may need only one implant post or up to 6 or 8 for an implant denture. While replacing one missing tooth is much less than an entire arch, an implant denture is much more cost-effective than a traditional denture.
Type of restoration: Because of the versatility of dental implants, the type of restoration you receive will be a cost consideration. Whether it is a crown, bridge, or denture, you can trust that your restoration will look and feel completely natural.
Size or material: Most dental implants in Kernersville are made of titanium or zirconia, which can raise or lower the price of your total expenses. Also, it may be necessary to have an implant post that is much shorter than your average implant, simply because of where it needs to be placed inside the mouth.
Brand of dental implant: Similar to cars, there are different manufacturers that make dental implants.
It's important to remember that attempting to lower your cost with cheaper materials will likely cost you later on. Using high-quality materials will ensure your implants remain firmly in place for longer.
How Dental Implants Can Save You Money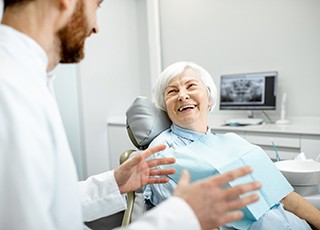 It may be tempting to opt for a dental bridge or denture because of the lower upfront cost; however, as you learn more about dental implants and their many benefits, you will discover they are the more cost-effective option simply because:
You won't be required to buy dental adhesive to hold them in place
You won't need specialized cleaning solutions to help remove harmful particles from your prosthetics
You won't need frequent adjustments or replacements every 5-10 years
You also will not need to worry about your dental implants wearing down your teeth like other tooth replacement solutions. Because dental implants in Kernersville allow you to maintain better oral health, you effectively lower your risk of tooth decay, gum disease, and jawbone deterioration. This not only saves you money in the long run on your oral healthcare expenses, but you'll also decrease your risk for systemic issues that can also be costly as you get older.
Does My Dental Insurance Cover Dental Implants?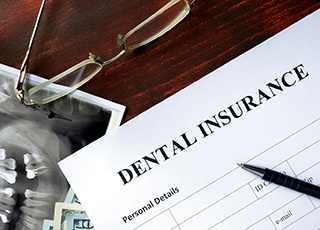 In general, dental insurance does not cover dental implant treatment. However, some insurances do pay part of the cost of procedures related to implants, such as gum disease therapy. The restorations that are placed on top of the implant may also be partially covered, depending on your plan. We are highly experienced in understanding and working with dental insurance companies, and our team will help you get the most value out of your benefits.
Making Dental Implants Affordable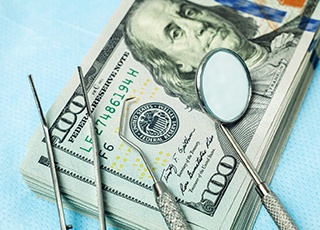 If you discover your dental insurance will not cover as much of your total costs, there is still a way to keep your expenses low. To keep dental implants affordable, Dr. Walker is pleased to work with CareCredit. As a flexible financing opportunity, you can enroll in a low or no interest payment plan. This allows eligible participants to break up the cost of treatment into manageable payments.
Dental Implant Failure & Salvage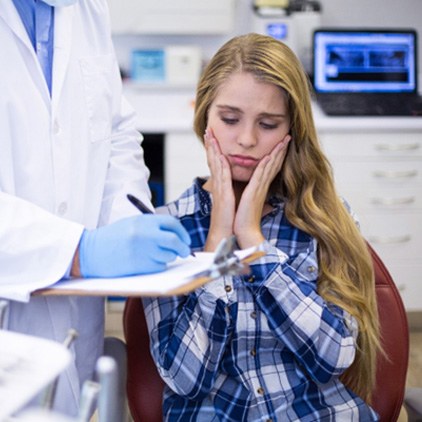 If you've heard of dental implants, you likely know how successful they are. In fact, their success rate ten years after placement is over 95%! That being said, these prosthetic teeth do still fail at times. It's thus a good idea to see us if your rebuilt smile feels sore. With our effective dental implant salvage treatment, we can keep your grin full and strong. You'd then be able to preserve your looks and oral health.