Dental Crowns & Bridges Restore Kernersville Smiles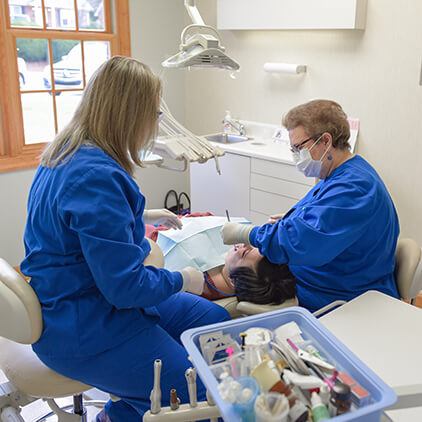 At the Kernersville dental practice of Dr. Veronica Walker, we can replace your missing tooth with a fixed bridge. Dr. Walker is a very experienced and skilled dentist when it comes to creating and placing your crowns and bridges.
If you have a missing tooth, it's important to replace it. Even a single missing tooth can have a detrimental effect on your oral health. If you have smile gaps, you may experience shifting of other teeth, misaligned bites and increased risk of gum disease. A fixed bridge can not only return beauty to your smile, but improve oral health as well!
At our restorative dentistry office, we can discuss your tooth replacement options, including a fixed bridge. A fixed bridge is a dental prosthesis that has a replacement tooth connected by crowns bonded on neighboring teeth. A bridge is permanently cemented into place.
A crown or bridge can also be attached to a dental implant. This option of placing a crown or bridge on top of a permanent titanium post offers the added benefit of preventing bone loss. Either option is a great solution because the most important benefit of crowns and bridges is improving your health — and giving you a whole new reason to smile!
Maintaining your crown or bridge requires the same effort as the care you take with your real teeth. You can brush, floss and rinse your crown or bridge. A crown or bridge offers you real functionality and returns your ability to eat and speak better. It's durable, long-lasting and looks as though it's a natural part of your smile.
If you need a crown or bridge or other restorative dentistry services, contact us at the Kernersville, NC dental practice of Dr. Veronica Walker. We serve Kernersville, Winston-Salem, Greensboro, High Point and surrounding towns. Contact us now to make your appointment!