Dental Crowns & Bridges Restore Kernersville Smiles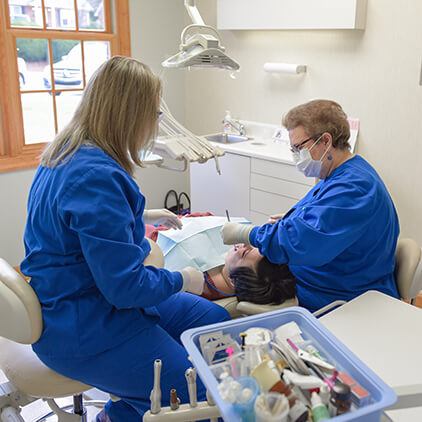 At the Kernersville dental practice of Dr. Zack Walker, we can replace your missing tooth with a fixed bridge. Dr. Walker is a very experienced and skilled dentist when it comes to creating and placing your crowns and bridges.
If you have a missing tooth, it's important to replace it. Even a single missing tooth can have a detrimental effect on your oral health. If you have smile gaps, you may experience shifting of other teeth, misaligned bites and increased risk of gum disease. A fixed bridge can not only return beauty to your smile, but improve oral health as well!
At our restorative dentistry office, we can discuss your tooth replacement options, including a fixed bridge. A fixed bridge is a dental prosthesis that has a replacement tooth connected by crowns bonded on neighboring teeth. A bridge is permanently cemented into place.
A crown or bridge can also be attached to a dental implant. This option of placing a crown or bridge on top of a permanent titanium post offers the added benefit of preventing bone loss. Either option is a great solution because the most important benefit of crowns and bridges is improving your health — and giving you a whole new reason to smile!
Maintaining your crown or bridge requires the same effort as the care you take with your real teeth. You can brush, floss and rinse your crown or bridge. A crown or bridge offers you real functionality and returns your ability to eat and speak better. It's durable, long-lasting and looks as though it's a natural part of your smile.
If you need a crown or bridge or other restorative dentistry services, contact us at the Kernersville, NC dental practice of Dr. Zack Walker. We serve Kernersville, Winston-Salem, Greensboro, High Point and surrounding towns. Contact us now to make your appointment!
Dental Crown & Bridge FAQs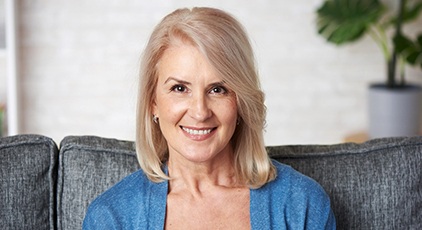 We know you probably have a lot of questions when it comes to better understanding how dental crowns in Kernersville work. Also, if you recently learned you need a dental bridge, you're probably wondering why this solution is better than the alternatives. Dr. Walker and his team want you to feel confident in your decision to pursue the right treatment for your dental needs, which is why we've compiled some frequently asked questions about dental crowns and bridges for you to review. Feel free to contact our office to schedule an appointment if you have any additional questions or concerns.
Does a dental bridge require special care?
Fortunately, a dental bridge doesn't require any additional products or instruments to keep it clean. All you need to do is continue brushing, flossing, rinsing, and seeing your dentist every six months for regular checkups and cleanings. This is one of the great benefits of having a dental bridge. Instead of resorting to a partial denture that often requires maintenance and adjustments over time, a dental bridge can stay in place and untouched for many years.
What is the best way to care for a temporary dental crown?
While waiting for your finalized restoration to be created, you will need to follow a few instructions to ensure your temporary restoration remains in place:
Avoid any foods that are sticky, as they can cause your temporary crown to pull off. These include gum, caramel, etc.)
Avoid chewing on that particular side of your mouth, if possible.
Try not to eat anything hard (i.e. raw vegetables), as this can dislodge your crown.
Slide the floss out through your teeth rather than lifting. This can potentially pull your crown off.
Will my dental bridge look natural?
Yes, Dr. Walker and his team will first use a shade guide to match the color of your restoration to your regular tooth color. This will ensure that when lab technicians begin to craft your bridge, they have the right specifications to create a restoration that matches the rest of your smile and blends in seamlessly.
Does dental insurance cover the cost of a dental crown or dental bridge placement?
Most dental insurance policies offer coverage for dental crowns and bridges. Depending on your individual plan, the amount they agree to cover can vary between 70-80% or 50-70%. It is important that you contact your insurer to find out how much your out-of-pocket expenses will be. If you need assistance in reaching out to your dental insurance company or finding ways to pay the remaining balance after your claim is filed, our team can help.