May 26, 2018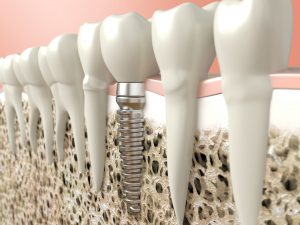 Dental implants in Kernersville are simply the best way to complete a smile after tooth loss. They're booming in popularity — and questions still remain for many. To help set fact from fiction about this fabulous method of tooth replacement, we've put together an FAQ. Keep reading for the answers to your top 8 questions about dental implants.
Q: How Do Dental Implants Work?
A: Dental implants replace the entire structure of a missing tooth, from its supportive root structure to the visible crown. Each implant post is surgically placed beneath the gum line, where it will promote the growth of bone tissue that leads to a sturdy, long-lasting tooth replacement solution.
Q: What Are Dental Implants Made of?
A: The majority of dental implant posts are made of titanium, a biocompatible material that your body can accept without issue. Patients who are sensitive to metals may require an alternative to titanium, like zirconia or ceramic.
Q: How Many Teeth Can Dental Implants Replace?
A: Dental implants can be used to replace any number of missing teeth, from a single crown to an entire arch in the upper or lower jaw.
Q: What Are the Benefits of Dental Implants?
A: Dental implants offer a number of advantages to other methods of tooth replacement, including:
Better oral and overall health

Sturdy tooth replacement that does not slip or slide around

Natural-looking

Support a balanced, nutritious diet

Lasts a lifetime with proper maintenance
Q: How Long Does It Take to Get Dental Implants?
A: The total length of time your dental implant procedure takes will vary based on a few factors, but in general, expect for the entire process to last between six months to a year. The implants are completed over the course of two phases: implantation and restoration. In the months between each phase, you may wear a temporary tooth replacement so you do not have to spend any extra time without teeth.
Q: How Much Do Dental Implants Cost?
A: The total cost of your dental implant procedure will also depend based on your specific needs and several factors, including how many teeth you have lost, from where in the jaw they are missing, and more. Your implant dentist can help you plan for what to budget after a consultation.
Q: Am I a Candidate for Dental Implants?
A: If your tooth loss is recent and you are in good oral and overall health, chances are great that you are a viable candidate for dental implants. Smoking and poor oral hygiene will increase the risk of dental implant failure.
Q: Where Can I Learn More About Dental Implants?
A: To find out more about dental implants, including whether or not you are a candidate for this procedure, get in touch with your dental implant dentist in Kernersville. A consultation is necessary to determine just which method may be best for you.
Meet the Dentist
Dr. Veronica S. Walker is an excellent restorative dentist offering high-quality dental implants from the comfort of her Kernersville dental practice. To learn more or to schedule an appointment, you are invited to contact the office at 336-993-3727.
Comments Off

on Answers to the Top 8 Questions about Dental Implants in Kernersville
No Comments
No comments yet.
RSS feed for comments on this post.
Sorry, the comment form is closed at this time.