June 27, 2018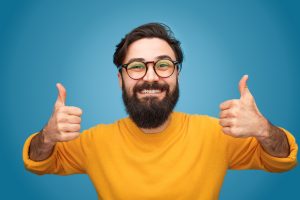 Do you have gaps in your smile? Dental implants are a comprehensive tooth replacement that can complete a smile after the loss of one, two, or an entire arch of teeth. There are other options in tooth replacement to be sure, but nothing comes as close to offering the stability and security of dental implants in Kernersville. Keep reading to learn more about dental implants, including their benefits and whether or not you are a good candidate for this solution.
Dental Implants Are Prosthetic Tooth Roots
A dental implant is a titanium post that takes the place of your missing tooth's root. Once it has been surgically placed beneath your gum line, this titanium post promotes the growth of bone tissue to help it fully integrate (grow together with) with the jaw. After this process has taken place, the dental implant is exposed once more and a connecting abutment is placed on top. Then, the crown, bridge, or denture is secured to the dental implant posts.
Multiple Benefits of a Whole-Tooth Solution
No other method of tooth replacement takes care of the entire tooth structure from the root up like dental implants. This comprehensive method offers a number of benefits for patients who have lost teeth. Some of the most considerable advantages of dental implants include the following:
Tooth loss can cause the bone tissue to weaken, but dental implants stabilize the jaw and promote better oral health for a lifetime to come.

A sturdy tooth replacement promotes a healthy, balanced diet.

It is easier to speak clearly with dental implants.

Dental implants can correct prior bite alignment issues.

Dental implants look like your natural teeth and are cleaned the same way, too.

When cared for properly, dental implants can last for life.
Good Candidates for Dental Implants
Many adults who have lost teeth are eligible for replacement with dental implants. The only way to find out for sure whether or not this is a viable option for your smile is to schedule an appointment with your dental implant dentist.
During a consultation, your dentist will consider the following elements to determine whether or not you are a candidate for dental implants:
Your overall health: Dental implants are placed surgically, which means they may not be a good option for much older patients or those with health problems.

Your oral health: Patients who have had severe periodontal (gum) disease may have lost gum and bone tissue that will make it difficult for the dental implants to anchor properly. A bone graft can help in some cases.
Dental implants are a great option for many patients, and the only way to find out if they're the answer for your smile is to schedule an appointment with your implant dentist. If they are, you can look forward to getting started right away!
Meet the Dentist
Dr. Veronica S. Walker is the dentist Kernersville patients trust with their smiles. An expert in restorative dentistry, she offers dental implant restoration from the comfort of her office. To learn more about dental implants or to discuss whether or not this comprehensive replacement is a great option for you, you are invited to contact Dr. Walker at (336) 993-3727.
Comments Off

on Why Dental Implants Are the Best for Tooth Replacement
No Comments
No comments yet.
RSS feed for comments on this post.
Sorry, the comment form is closed at this time.