September 29, 2018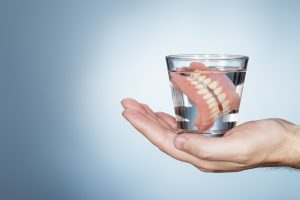 Dentures have long been a trusted method for replacing several missing teeth. Prosthetic crowns affixed to a base that is designed to look like your gums, this option looks, fits, and feels natural — but not right at first. Dentures and partials come with an adjustment period of one to two months. During this time you may experience sore gums, excess saliva, and other side effects. By following a few steps, you can breeze through this adjustment phase to enjoy all the benefits of a beautiful and properly-functioning tooth replacement!
What Happens When You Get Dentures
Right after you receive your new denture(s), your mouth will need some time to get used to them. The first reaction will be to get the foreign object out — and that can result in excessive saliva production that may leave you feeling like you drool most of the day. Your gums won't be used to the denture, either, which will cause soreness and maybe some inflammation. Speaking and eating will be more difficult, too. Each of these reactions totally normal and to be expected. Don't give up yet!
Getting Used to Dentures
The trick to getting through this adjustment phase and using your dentures normally is to keep wearing them as directed. It may be tempting to take out a denture that is causing you discomfort or making it difficult to speak, but that just delays how quickly your mouth can get used to the new teeth. You should wear your denture throughout the day (except when you are cleaning it) and then let it soak at night while you sleep.
Some tips for speeding up the adjustment phase even more include:
Practice reading or singing aloud to get used to speaking with dentures.

Take small bites when eating.

Avoid using your front teeth, which may be especially uncomfortable.

Do some cheek exercises. Strengthening up this area can make it easier to use the denture pain-free.

Use a denture adhesive to get through the initial discomfort.

Eat softer foods until you feel comfortable resuming your normal diet.

Resist the temptation to remove the denture!
When to Call Your Dentist
Most of the time, dentures are a wonderful option for replacing missing teeth and patients will move past soreness and discomfort after about a month. However, if you experience an issue with your denture's fit for longer than this period, do not hesitate to let your dentist know. A minor adjustment may be enough to improve the function of the denture and help you use it comfortably. You deserve all the benefits of a tooth replacement that looks, fits, and feels like the teeth you were born with!
About the Author
Dr. Veronica S. Walker is the dentist Kernersville patients trust for quality restorative dentistry procedures like dentures and partials. If you are missing teeth and would like to get started on your complete and long-lasting smile, you are invited to contact Dr. Walker at (336) 993-3727.
Comments Off

on Adjusting to Life with Dentures in Kernersville
No Comments
No comments yet.
RSS feed for comments on this post.
Sorry, the comment form is closed at this time.