October 29, 2018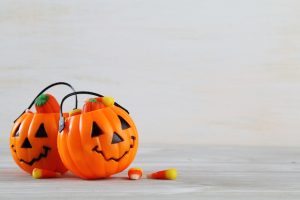 In the middle of October, you (like most people) will probably find yourself surrounded by pumpkins, pumpkin spice, and sweet treats galore. Candy consumption really ticks up during Halloween season, which means most of us are also at a higher risk of getting a cavity or breaking a tooth on that sticky caramel or taffy. This month doesn't have to put your smile in danger, though. Keep reading for top tips on safe candy consumption from your dentist in Kernersville!
#1: Skip the Candy Bowl
You may have sweets piling up around you, but avoid the temptation to start a decorative candy bowl, which can make it easier to over-indulge without realizing it. Instead, place the candy in a ziplock bag in a designated area — like in the kitchen. Make that your/your family's candy eating zone.
#2: Set Limits
It's not realistic to try to avoid candy altogether this time of year, so instead, remember that all things are fine in moderation. Try to limit yourself to one (or two if they're small) sweet treats in a day. These same ground rules can go for the whole family, too.
#3: Know What to Stay Away From
While no one will expect you to completely avoid candy, there are some definite NOs that should be skipped altogether. Candy apples, toffee, peanut brittle, and other hard or sticky treats can put your teeth in danger. They may chip or break due to the pressure, or sticky parts may stay behind and accelerate the rate of tooth decay.
#3: Time it Right
When it comes to candy, it's not only about what you eat — it's also about when you eat it. Your mouth generates more saliva during a full meal than it does during a snack, and saliva is crucial for washing away leftover food particles and sugars which keep your smile clean. To avoid the more severe side effects of candy consumption, indulge after a full meal rather than snacking between meals throughout the day.  
#4: Visit the Dentist
Patients of all ages should have at least two checkups and cleanings at the dentist per year, and a great time to get the second one is during autumn. After Halloween season is over, take the time to schedule a visit to your dentist to make sure your teeth are ready to take on the next few holidays and into the new year!
To conclude, October can be a scary month for smiles — but it doesn't have to be! Follow these steps and feel good knowing you're doing what you can to keep your teeth clean, healthy, and beautiful.
About Us
Dr. Veronica Walker and Dr. Zack Walker offer comprehensive dental care focused on prevention for smiles of all ages. This month, they are encouraging their patients to schedule a checkup and cleaning to get through Halloween season with excellent oral health. To book your visit, get in touch with the office by calling the "dentist near me" at (336) 993-3727.
Comments Off

on Dentist in Kernersville Has Tips for Candy Consumption
No Comments
No comments yet.
RSS feed for comments on this post.
Sorry, the comment form is closed at this time.