October 25, 2019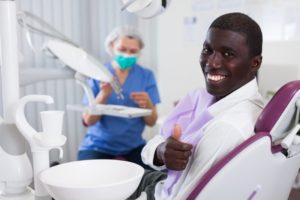 As the days get shorter and colder, you're reminded that the holidays are just around the corner. Before you know it, you'll be too busy to get much of anything done. That's why right now is the best time to use your dental insurance coverage and visit your family dentist in Kernersville. In this post, you'll learn about four advantages to using your insurance coverage before 2020 begins over waiting for New Year's resolutions.
Use What You've Already Paid for
If you have dental insurance, then you have already paid almost a year's worth of monthly premiums. Not going to the dentist when you have dental insurance is like paying for a meal and then throwing it all directly into the trash. Use the benefits that you and your employer are paying for. Most dental insurance plans cover preventive visits completely, which means that you shouldn't have to pay anything out-of-pocket when you go in for a checkup and cleaning.
Stop Dental Problems Sooner
Some medical conditions require time to work themselves out, but waiting for an oral problem to go away on its own will only make it worse. Over time, it will continue to progress and spread, requiring more intensive and expensive treatment to fix. In some cases, waiting until the new year may only mean that you'll end up spending more money in the long run. In other words, if your dentist in Kernersville can identify a problem while it is still small, you won't have to pay as much as you would have if you'd waited until later.
Avoid a Dental Emergency
Did you know that oral hygiene at home isn't enough to keep your smile healthy in the long term? During routine exams and cleanings, your dentist looks for any signs of trouble, even if they are just at the beginning stages of development. Then, if they find something concerning, they can resolve it right away. Then your hygienist performs a professional cleaning of your teeth and removes hardened plaque, stopping bacteria from harming your smile. As a result, you can steer clear of and not have to worry about a painful, time-consuming dental emergency.
Get Services for a Cheaper Price
Year after year, the price of products and services increases. Unfortunately, the dentistry field is no different. Around January, many practices make changes to their fees for certain services, making these services more expensive. By getting these services completed before the new year begins, you could save significant money.
Spend a little time and effort to get a dental visit finished soon. That way, you can either receive a clean bill of oral health or the treatment you need to get your smile back on track. Once this appointment is done, you can focus on your other to-do list items, make time for your loved ones, and more easily enjoy the holiday season.
About the Practice
Dr. Veronica Walker has been practicing for over thirty years and has served Kernersville families since 1990. Joining her in the practice, her son Dr. Zack Walker completed the Advanced Education in General Dentistry program after earning his doctorate of dental surgery degree. They share the same commitment to always put each patient's needs first. To schedule an appointment with either Dr. Walker, just click here.
Comments Off

on 4 Benefits of Using Your Dental Insurance with a Family Dentist Before 2019 Ends
No Comments
No comments yet.
RSS feed for comments on this post.
Sorry, the comment form is closed at this time.