February 22, 2020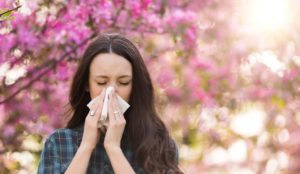 You're out walking your dog on a beautiful spring morning when you suddenly feel it. That little itch letting you know that sneezes are coming. After you sneeze a couple of times, you feel pressure behind your sinuses and pain in your teeth even after you've gone back inside. You wonder whether your tooth pain is something you should be concerned about. How can allergies affect your teeth? Could something be wrong with your teeth? What can you do about it? Should you call your dentist in Kernersville? Read on to find out!
How Allergies Can Affect Your Teeth
Unlike tooth decay, your allergies don't actually harm your teeth, but they can cause dental discomfort. Mucus is created by tissues in the sinus cavity, and for some people these tissues go into overdrive produce too much mucus when spring comes around. When the nasal passage becomes inflamed and constricted because of allergies, a feeling of pressure can build up and spread to nearby parts of the face, including up to your eyebrows and down into your teeth.
How to Tell Whether Tooth Pain Is Allergy Related
You shouldn't have to visit the dentist every single time your allergies flare up, but you also don't want to ignore genuine tooth pain that's indicating a dental problem. How can you determine the cause? It's important to note that allergy-related pain tends to feel different than a traditional toothache caused by tooth decay or infection. Pressure from the nasal cavity typically affects just the top teeth, specifically the top molars, and usually manifests as a dull ache or soreness.
Tooth pain from decay usually starts out as sensitivity to hot and cold temperatures. Then, it may shift to an especially sharp pain when you bite down with a specific tooth or when you consume sugar. Pay attention to potential triggers of your tooth pain to know how you should respond.
How to Deal with Tooth Pain
If your tooth pain is a result of your seasonal allergies, taking an antihistamine should alleviate the pressure in your oral cavity and ease your symptoms. You can also take over-the-counter pain medication to manage your discomfort. However, if your tooth pain does not subside within a couple of days, you should seek help from your dentist to see if something more serious is going on. Although allergy-related tooth pain can be managed on your own, cavity-causing tooth pain cannot. You'll need to visit your dentist in Kernersville for treatment.
This spring, you may struggle with the annoying symptoms of allergies, and you may still experience times when you're not sure whether or not your tooth pain is more than just your allergies acting up. In those situations, it's generally best to err on the side of caution and have your teeth looked at by a professional. That way, your natural smile can stay as healthy as possible.
About the Author
After graduating with honors from the University of North Carolina School of Dentistry in 2017, Dr. Zack Walker went on to complete the Advanced Education in General Dentistry program through the East Carolina University School of Dental Medicine. He is also an active member of the American Dental Association and the Academy of General Dentistry. If you have questions about tooth pain, you can reach Dr. Walker by clicking here.
Comments Off

on Can Allergies Give You Tooth Pain?
No Comments
No comments yet.
RSS feed for comments on this post.
Sorry, the comment form is closed at this time.