March 26, 2020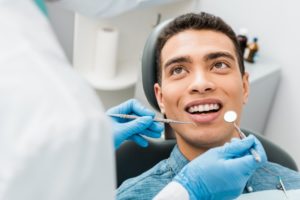 When you think of your dentist in Kernersville, you think of someone who is knowledgeable about your teeth and gums. But did you know that this dental expert can help with more than just issues with your mouth? It's true! In this post, you'll learn about five conditions that your dental can help identify through an oral exam. In some cases, this early detection could mean the difference between life and death!
Oral Cancer
As the name suggests, oral cancer manifests in the oral cavity, and who is better trained and equipped to identify abnormalities in the mouth than a dentist? During each checkup and cleaning appointment, your dentist takes a couple of minutes to inspect the soft tissues for white or red spots, sores that have not healed, and other signs of potentially cancerous cells. Your dentist can point you toward the right physicians for early treatment.
Diabetes
If you struggle with gum disease on a routine basis, it could indicate that something more serious is happening inside your body. Poorly managed diabetes reduces your body's ability to fight infection, meaning that you're more likely to get chronic problems like gum disease. As a result, your dentist could help you understand that you need to take control of your diabetes.
Eating Disorders
Patients who have an eating disorder, namely bulimia, tend to have weaker teeth because the acid from the stomach erodes tooth enamel. Consistent cavities, cracks, or breaks in the enamel could signal that the patient needs to seek additional medical attention and counseling.
High Blood Pressure
Gum disease can impact more than just your smile. Many studies have found that gum disease drastically increases your chances of developing heart disease. Researchers believe that the same bacteria that cause inflammation in the gums spread throughout the body and create inflammation in blood vessels, which can lead to higher blood pressure and cardiovascular events like a stroke or heart attack.
TMJ Disorder
When your dentist checks your teeth, they also examine how your upper and lower teeth match up (i.e., your bite) and how well your jaw joint functions. If there is an issue with this joint, called the TMJ, you can experience difficulty opening or closing your mouth, jaw pain, and other symptoms that make your day-to-day life miserable and challenging. Fortunately, your dentist can identify these problems and provide an oral appliance that relaxes your jaw muscles for pain relief.
Because of the mouth's effect on the rest of your body and vice versa, it is important to take special care of your smile. Visiting your dentist on a regular basis can be useful in keeping not just your oral health but also your overall well-being in check.
About the Author
When he graduated from the University of North Carolina School of Dentistry with honors in 2017, Dr. Zach Walker went on to complete the Advanced Education in General Dentistry (AEGD) program in Elizabeth City through the East Carolina University School of Dental Medicine. He is a professional member of the American Dental Association and the Academy of General Dentistry. If you would like to schedule an appointment with him, you can contact his office by clicking here.
Comments Off

on 5 Conditions Your Dentist Can Help Diagnose
No Comments
No comments yet.
RSS feed for comments on this post.
Sorry, the comment form is closed at this time.