June 17, 2020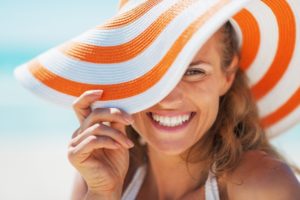 The sun is shining, temperatures are rising, and the summer months are finally here! While it's the best time of year to relax and have fun, it can be easy to forget about maintaining your oral health. This can put your summer in jeopardy of a painful toothache, or worse, a knocked-out or chipped tooth! Keep your smile healthy and bright all season long with these five simple tips from your Kernersville dentist!
1.) Don't Relax Your Daily Dental Routine
Just because summer is the best time to kick back and relax doesn't mean you can take it easy on your at-home oral hygiene! Flossing daily and brushing for two minutes twice a day are essential for keeping a range of oral health issues at bay, including cavities, gum disease, and oral infections. Whether you're on a summertime vacation or enjoying a lazy day at home, always take time to care for your smile.
2.) Practice Pool Safety
As the weather heats up, many of us will be heading to the pool to cool off. Unfortunately, poolside accidents are a common cause of summertime dental emergencies. Always practice important pool safety rules like no running on wet surfaces, never dive into a shallow area of the pool, and always be aware of how close you are to the concrete edge of the pool.
3.) Choose Smile-Friendly Summer Foods
Sugary summertime snacks like soda, ice cream, and cookies dramatically increase your risk of cavities, especially as you snack on them throughout the day. Thankfully, there are plenty of healthy foods you can eat instead to enjoy the season without boosting your chances of tooth decay. Watermelons, apples, strawberries, nonfat yogurt, and salmon all contain a garden variety of vitamins and nutrients to keep your teeth and gums healthy this summer.
4.) Hydrate the Right Way
Popular warm weather beverage choices like sports drinks, soda, and fruit juices are highly acidic and can burn through your enamel quickly. To keep your teeth safe while you hydrate, make water your drink of choice this season. Not only will it wash away any lingering sugars and food particles in your mouth, but tap water is also typically fortified with fluoride to keep your teeth strong!
5.) Take a Trip to See Your Dentist
Routine dental checkups every six months play a key role in identifying and treating oral health issues as early as possible. If you're due for your regular cleaning, now is a great time to schedule an appointment and cross it off your to-do list. Your dentist can ensure that your smile is ready to sparkle in the sunshine and that there are no lurking issues that can cause problems while you're out of town on vacation.
Summer is filled with plenty of reasons to smile, so make sure you're taking care of your pearly whites! Use these five simple yet effective tips to keep your oral health on track all season long.
About the Practice
Drs. Veronica and Zack Walker have been helping the smiles of Kernersville, NC and the surrounding communities stay happy and healthy for over 30 years now. They use a combination of delightful patient amenities and the latest dental technology to ensure that each visit is as comfortable and pleasant as possible. Whether you're visiting them for a quick cleaning or more extensive treatment, you can rely on them for the excellent and compassionate dental care you deserve. They can be contacted via their website or at (336) 993-3727.
Comments Off

on How to Keep Your Smile Healthy as the Weather Warms Up
No Comments
No comments yet.
RSS feed for comments on this post.
Sorry, the comment form is closed at this time.