August 24, 2020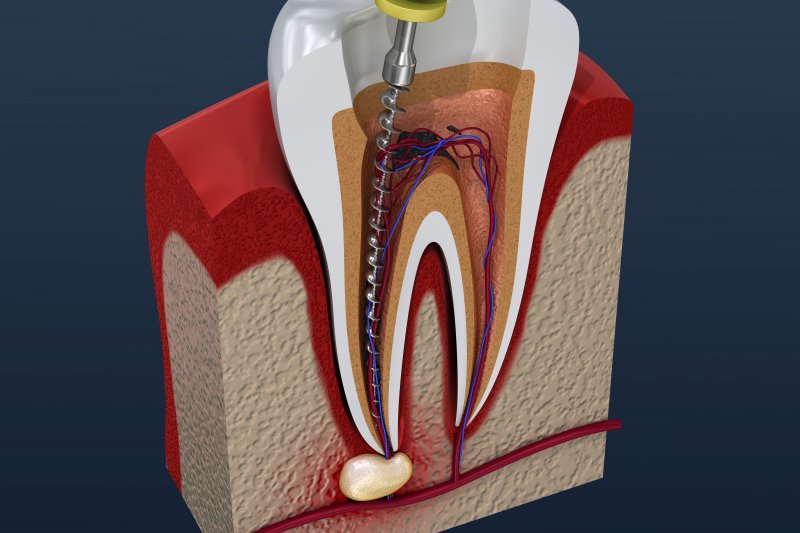 If you are currently suffering from a severely decayed or damaged tooth, you might assume a dental filling or crown will suffice in treating the problem. Unfortunately, if the infection or injury reaches the innermost layer (the pulp), your dentist will likely recommend a root canal in Kernersville. Although coined as a term that leaves people running in fear, the truth is this type of complex procedure is extremely safe, beneficial, and effective at eliminating pain and saving your natural tooth from extraction. But do you know if you need a root canal? Read on to learn more about the various symptoms you should watch for that could indicate this necessary method of treatment.
Relentless Pain
Not all individuals feel pain all the time; however, if the discomfort you experience occurs deep within the bone, this could be a clear indicator that you need a root canal. It is also possible to feel pain throughout your face, jaw, or in nearby teeth, as it can radiate to other areas of your oral and facial structures.
Of course, tooth pain isn't always a sign that you need a root canal. It could also be that you are experiencing gum disease, cavities, an impacted tooth, or a damaged filling. The only way to know for sure is to let your dentist in Kernersville examine your oral cavity and determine if an infection exists inside the tooth. But remember, the quicker you seek professional health, the greater your chances of a successful recovery.
Increased Tooth Sensitivity
If biting into your favorite ice cream or sipping a cup of hot coffee causes you to cringe in pain, you are experiencing what is known as tooth sensitivity, which is a symptom closely associated with individuals who need a root canal. You may feel a dull or sharp pain, but if it persists or lingers too long, this could mean the blood vessels and nerves inside your tooth are damaged and in need of treatment.
Discoloration of Your Tooth
Whether caused by trauma or an infection in the pulp, your tooth may become discolored. Either can result in root damage, causing inadequate blood flow and your pearly whites to appear gray or black. Much like pain, tooth discoloration can also be attributed to other common dental problems, so if you're unsure as to why a small part of your smile appears stained, schedule an appointment to see your dentist right away.
Inflamed, Tender Gums
If faced with swollen gums, the first thing that may come to mind is gingivitis. However, if your soft oral tissues are inflamed, tender to the touch, and appear to have what looks like little pimples forming, you can expect a root canal to be in your future. Also known as an abscess or gum boil, these pimple formations may ooze pus that is caused by the infection, resulting in not only bad breath but a horrible taste in your mouth as well.
A Loose, Chipped, or Cracked Tooth
Chipped, cracked, or loose teeth are all signs a root canal may be necessary. When trauma occurs to one of your teeth, bacteria can develop and cause an infection. Because inflammation is a high probability when dealing with a dental injury, even if the tooth remains intact, the nerves can be damaged and begin to swell, causing pain and increased sensitivity.
If your tooth becomes loose, your dentist will need to determine if the nerve has "died" and is causing the bone around it to soften. If so, this could be the reason for it becoming more mobile, resulting in a necessary root canal to try and save the tooth from possible extraction.
If you learn you need this complex procedure to improve your oral health, do not be afraid. Your dentist is a skilled professional who will ensure your safety and comfort during the process. By addressing your problem with a root canal, you can enjoy your natural teeth longer and a healthier smile.
About the Author
Dr. Zach Walker attended the University of North Carolina School of Dentistry and received his Doctor of Dental Surgery in 2017. Graduating with honors, he went on to complete the Advanced Education in General Dentistry (AEGD) program through the East Carolina University School of Dental Medicine. Alongside his mother, Dr. Veronica Walker, the two bring years of experience, talent, and knowledge to patients living in Kernersville and its surrounding communities. Whether facing a root canal or another complex procedure, he and his team will ensure you remain safe and comfortable while receiving the treatment you need to restore your oral health. If you believe you may need root canal therapy, visit our website or call (336) 993-3727.
Comments Off

on How to Know if a Root Canal is Necessary
No Comments
No comments yet.
RSS feed for comments on this post.
Sorry, the comment form is closed at this time.