October 13, 2020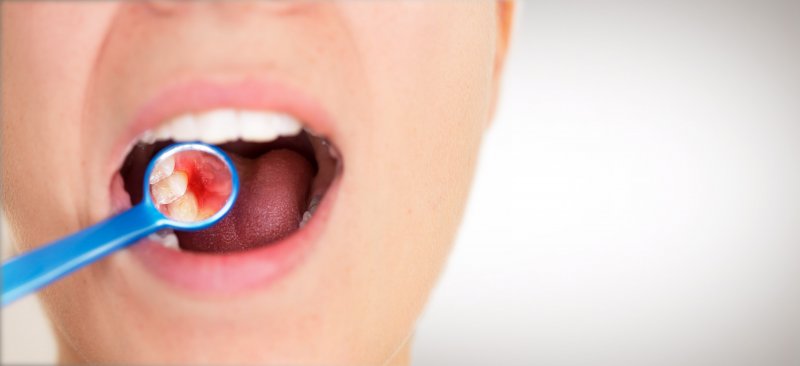 Do you wonder if gum disease in Kernersville can be cured? The answer depends on how far it has escalated and how much damage is already done to your soft oral tissues. While it is true that your dentist can reverse initial symptoms of gingivitis, anything beyond this first phase is irreversible. Fortunately, that doesn't mean you have to give up hope on your oral health. To better understand how periodontal disease progresses and what you can do to avoid it in the first place, read on.
The Stages of Gum Disease
While avoiding gum disease is the best course of action, if you are noticing your gums appear red, swollen, and tend to bleed when brushing and/or flossing, it's time to get serious about stopping the symptoms before they worsen. What can start as easy to manage and even eliminate can quickly progress into irreversible damage that results in timely and costly restorative dental care.
The following are the different stages of gum disease:
Gingivitis: As the first stage, the symptoms (i.e. red, swollen, bleeding gums) can be easily reversed with regular dental cleanings and proper at-home oral hygiene habits. It is during this stage that the bacteria begin to attack your soft tissues.
Early Gum Disease: Once gingivitis advances into the second stage of gum disease, it cannot be reversed. The bacterial infection spreads, causing permanent bone loss. In addition to the symptoms seen while experiencing gingivitis, you may also have bad breath, a change in your bite, and gum pocket formations. It will be necessary for your dentist to use scaling and root planing (and possibly antibiotic therapy) to remove and prevent future infection.
Moderate Gum Disease: Although you are already experiencing what is known as periodontitis, this third stage of the disease occurs when your gum pockets deepen further (about 6-7 millimeters) and bacteria become more easily trapped. Your bone and the gum tissue will continue to deteriorate over time.
Severe Gum Disease: If you forgo treatment until you reach this fourth and final level, your dentist will inform you that anywhere from 50-90% of your bone is lost. Your soft gum tissue will likely ooze pus, and your teeth may be so loose that they fall out. At this stage, your dentist may opt to use periodontal surgery to remove the bacteria and infection, but you will also likely require tooth replacement in the future to avoid significant facial changes and continuous gum recession.
Ways to Prevent Gum Disease
If you want to avoid the potential for (more) frequent dental checkups and cleanings, scaling and root planing, or periodontal surgery, keep these tips in mind:
Practice good oral hygiene at home
Ask about specific toothpaste designed to protect against gum disease
Keep your regular dental checkups and cleanings with your dentist twice a year
Avoid eating hard, crunchy foods that can damage your teeth over time
Quit smoking and using tobacco products
Limit your alcohol consumption
Wear a nightguard while sleeping if you are prone to bruxism
By taking proactive steps to avoid gum disease, you can lower your risk for bacteria build-up and keep your soft tissues better protected for years to come.
About the Authors
Dr. Zach Walker attended the University of North Carolina School of Dentistry and received his Doctor of Dental Surgery in 2017. Graduating with honors, he went on to complete the Advanced Education in General Dentistry (AEGD) program through the East Carolina University School of Dental Medicine. When caring for patients with gum disease, he offers safe and effective periodontal therapy to reduce the potential for infection and improve patient smiles. If you would like to learn how you can prevent gum disease, visit our website or call (336) 993-3727.
Comments Off

on Is It Possible for a Dentist to Cure Gum Disease?
No Comments
No comments yet.
RSS feed for comments on this post.
Sorry, the comment form is closed at this time.