Single Tooth Dental Implant – Kernersville, NC
Restore Your Missing Tooth from the Root Up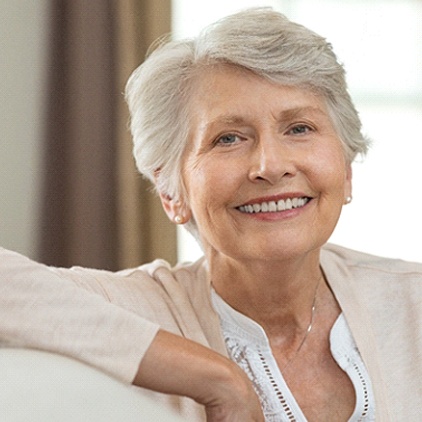 At first glance, missing just one tooth may not seem like a big problem, especially if the tooth is located in the back of your mouth. However, that lost tooth can affect more than just your how your smile looks. The teeth within the arch can shift to fill in the gap, changing how your upper and lower teeth fit together. As a result, you can develop jaw pain, headaches, and damage to your remaining teeth. The jaw bone also begins to deteriorate from a lack of stimulation, which can eventually lead to additional tooth loss. For all these reasons, it's critical to replace your missing tooth with a solution that most closely mimics the natural tooth structure—a dental implant.
Tooth Replacement Options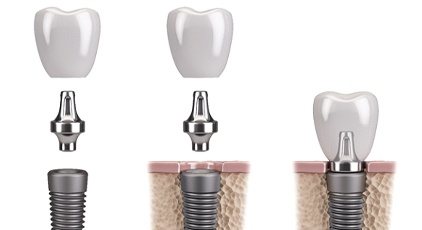 For replacing one missing tooth, you can choose either a dental bridge or an implant-retained dental crown. A traditional bridge consists of two dental crowns that are attached to two healthy teeth that surround the gap with an artificial tooth in the middle. In order to make room for this restoration, healthy enamel has to be removed, making these anchoring teeth more susceptible to decay. In addition, a dental bridge does not address the missing tooth's root structure, meaning that the jaw bone atrophy that occurs with tooth loss will continue with this treatment method.
In contrast, an implant-retained crown does not rely on the surrounding teeth for support. Rather, it anchors to the jaw bone, just like a natural tooth, strengthening the jaw bone and allowing you to keep more healthy tooth structure.
Single Tooth Implants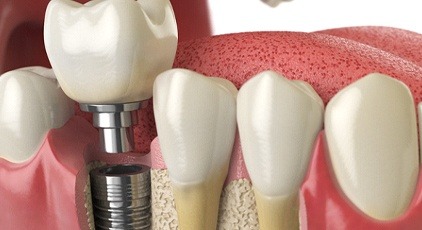 Dental implants for single missing teeth are placed in the missing tooth's socket inside the gums, stimulating the bone. After the gums and bone envelop the implant, an abutment piece is attached. Finally a custom, natural-looking dental crown is positioned on top, completing the process and giving you an artificial tooth that functions and appears just like a natural one.
Depending on your situation and needs, you may need to have preliminary procedures, such as a bone graft or periodontal therapy, to have the best chances of success.
Benefits of Single Tooth Implants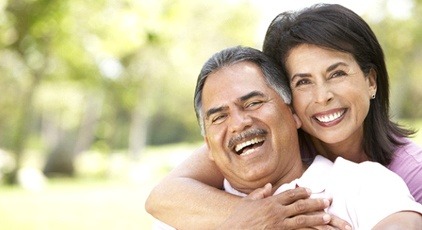 Dental implants are considered the top choice for replacing missing teeth. Why? They have many advantages over dental bridges, including the following:
Stronger, more natural bite. The implant keeps the jaw bone strong, supporting for your remaining teeth.
Younger appearance. Because it stops the jaw from weakening, your face can retain its youthful shape.
Longer lifespan. Dental bridges can last up to 10 years, but dental implants can last well beyond 30!
Lower risk of additional tooth loss. Dental implants do not depend on healthy teeth for support, meaning that you can keep healthy structure for longer.
If you are interested in learning more about dental implants, or if you'd like to get started on replacing your missing tooth, contact our Kernersville office to schedule a consultation. We would be happy to help you enjoy a strong, healthy, and beautiful smile again.