November 16, 2019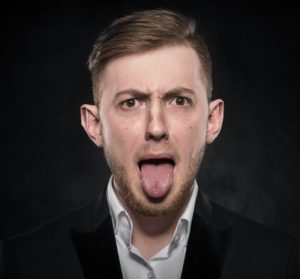 You're in a rush to get to work on time, so you speedily brush your teeth. When you spit into the sink, you happen to notice that your tongue looks a little odd. Normally, it is a healthy shade of pink, but not today. You debate whether you should see your family dentist in Kernersville. As long as your teeth and gums are healthy, you should be fine, right? Is your tongue really a big deal? Well, the coloration and texture of your tongue can be an important sign of a serious oral and medical condition that needs proper treatment. Read on to learn the four signs you should watch out for.
White Spots or Coating on Your Tongue
When it comes to your teeth, white is generally a good color to see. However, if your tongue appears to have a white coating or has white spots, it could indicate a condition called leukoplakia, which can be a precursor to oral cancer. Another potential issue is oral thrush, or a yeast infection that commonly occurs in infants and the elderly. It is especially common in those with a weaker immune system and those who wear dentures. However, oral thrush can also happen to patients just after they've taken antibiotics. Regular dental visits and daily oral hygiene can help you avoid this.
Red Tongue
At its mildest, a red tongue could signal folic acid and vitamin B-12 deficiencies. Patches of red surrounded by a white border is typically called geographic tongue, but it generally is harmless. If a red tongue is accompanied by a high fever, you could have scarlet fever, in which case, you'll need to see your physician for antibiotics. A red tongue and high fever in children younger than five years old could be a serious condition called Kawasaki disease, which requires immediate medical attention.
Sore or Bumpy Tongue
If you've ever burned or bitten your tongue, you've likely experienced having more sensitive and enlarged bumps on your tongue, but these symptoms can occur even if you haven't had some sort of trauma. You can have mouth ulcers, which are commonly called canker sores and usually heal within one or two weeks. However, if a lump or sore on the tongue lasts longer than two weeks, it could indicate oral cancer, even if it doesn't hurt. In fact, the early stages of oral cancer often come without any pain.
Black or Hairy Tongue
Luckily, a dark, black tongue is not especially common. Those who have extraordinarily long papillae, or the small bumps on the tongue can have bacterial growth if they don't properly maintain their oral hygiene. Those who have diabetes, undergo chemotherapy, or take antibiotics may be at increased risk of having this symptom. Basically, you'll likely need a visit with your dentist to get your oral health back to normal.
Ultimately, if you notice irregular coloration or texture on your tongue for prolonged periods of time despite exercising proper oral care, you need to see your dentist (or physician, depending on the situation) for an evaluation. As an expert in oral issues, your dentist can help diagnose the problem and recommend treatment that can ensure your oral health and overall well-being.
About the Practice
For about 30 years, Dr. Veronica Walker has been serving patients in the Kernersville area. She is an active member of the Forsyth County Dental Society, the Spear Study Club, the North Carolina Dental Association, and the American Dental Association. Her son, Dr. Zack Walker, joined the practice after he completed the Advanced Education in General Dentistry program in Elizabeth City through the East Carolina University School of Dental Medicine. If you have questions about oral health, you can contact them by calling or clicking here.
Comments Off

on Say Ah! 4 Potential Signals from Your Tongue That Something Is Wrong
No Comments
No comments yet.
RSS feed for comments on this post.
Sorry, the comment form is closed at this time.